For Immediate Release
Contact: Michelle Herrington
Sr. Marketing Coordinator
972.771.1000
marketing@whitmores.com
Whitmore Manufacturing, Subsidiary of CSW Industrials, Announces Hiring of Paul McKowen as Vice President of Operations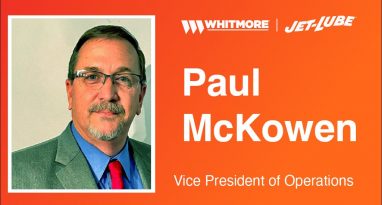 Rockwall, Texas, May 26, 2022 – Whitmore Manufacturing, LLC, a wholly-owned subsidiary of CSW Industrials, Inc. (NASDAQ: CSWI) and leading innovator of products and services that increase the reliability, productivity, and lifespan of industrial assets, is pleased to announce that Paul McKowen has joined the company as Vice President of Operations. Mr. McKowen will report directly to Mark Bass, President of Whitmore, and will lead the environmental safety and health, manufacturing, reliability, and quality control functions.

"Paul brings expertise in operational leadership with rich experience across a broad range of lubricants and specialty chemicals. We are very happy to have him join our team," said Mr. Bass. "He understands the operational levers that enable growth and drive value creation through excellence and efficiency."
Mr. McKowen brings 30 years of experience in operations management to the Whitmore Executive Leadership Team. Prior to joining Whitmore, Mr. McKowen was Vice President of Operations for Niteo Products, a specialty chemical company. He also has served in plant management roles with NCH Corporation and Vertrauen Chemie Solutions.
"This is an exciting time to be part of the Whitmore Manufacturing organization," Mr. McKowen said. "I could not be happier to be part of this team. I look forward to leading operations in striving to become a world-class manufacturer."


ABOUT WHITMORE MANUFACTURING, LLC
Established in 1893, Whitmore is an established leader in providing innovative products and services that increase the reliability, performance and lifespan of industrial assets. Brands include Whitmore, Jet-Lube, Deacon, Kats, OilSafe and Air Sentry, and they all manufacture reliable and high-performance products that meet the specific needs of each industry and application. Industrial customers worldwide rely on Whitmore to deliver the performance engineered solutions industry counts on even in the most adverse conditions and demanding environments. For more information, please visit whitmores.com.
ABOUT CSW INDUSTRIALS
CSW Industrials is a growth-oriented, diversified industrial Company with industry-leading operations in three segments: Contractor Solutions, Engineered Building Solutions, and Specialized Reliability Solutions. CSWI provides niche, value-added products with two essential commonalities: performance and reliability. The primary end markets we serve with our well-known brands include: HVAC/R, plumbing, general industrial, architecturally-specified building products, energy, mining, and rail. For more information, please visit cswindustrials.com.