Back to Blog
A Primer on Grease Testing for Performance and Condition Monitoring
Posted on 08/21/20 in: Technical Knowledge

|

General Industry

|

Author: Michael Holloway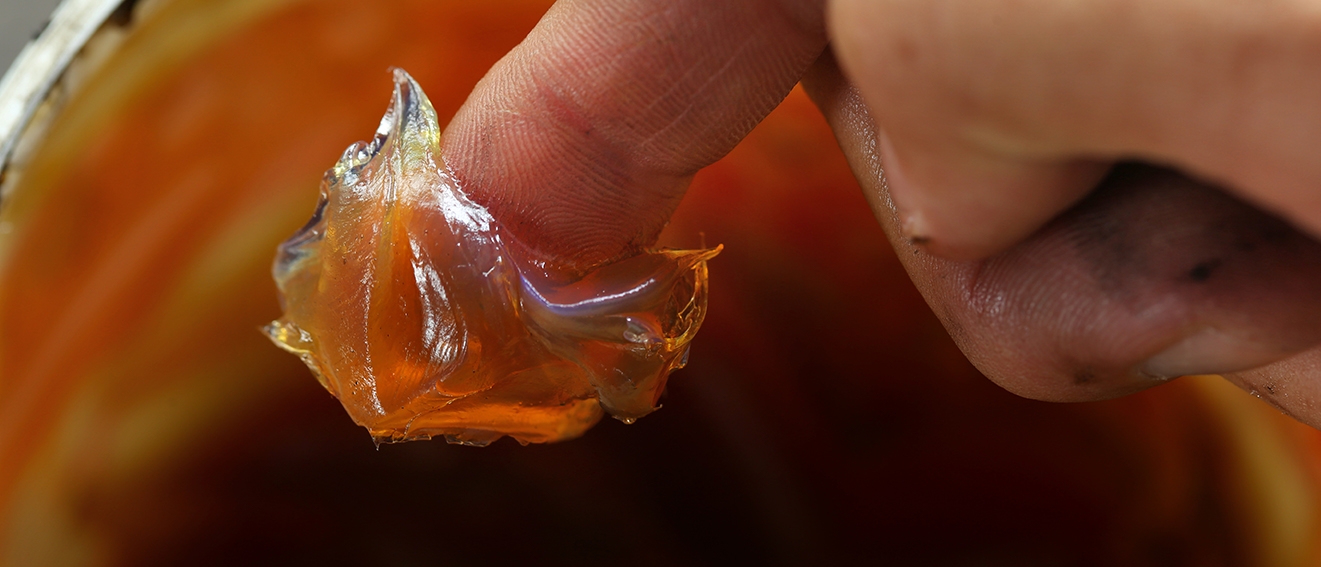 The tests that are performed for technical data sheets are different compared to what is tested for condition monitoring. This video explores the tests that are used to understand the performance of a grease as well as the tests used in the condition of the bearings. Conventional as well as new tests are presented.
Introduction
Many applications in various types of equipment create a host of lubrication problems; extreme heat, excessive pressure, water washout and contamination all can degrade grease and leave the components unprotected.
Various grease technologies are available that are designed to extend the operating life of the various components and help to decrease downtime, parts replacement, and labor costs. Attempting to understand which grease is best for a given application can be a difficult task.
Various controlled test methods have been established to make the selection process less painful. Many facilities use several different greases leading to costly misapplication mistakes.
There has been a concerted effort to minimize the number of greases used in a facility. This technique is known as lubricant consolidation. Maintenance teams are in search of a few greases to take the place of several that are being used.
After a grease is in service, it undergoes changes due to contamination as well as extreme conditions. There are several tests that have been developed that can determine the health of grease as well as provide warning signs of impending bearing failure.
These in-service tests can help identify misapplications, wear conditions, contamination, and potential grease failure.
If you want to know more about Grease Testing, fill the form below and get the complete presentation from Michael Holloway.
<style> #_form_32_ { font-size:14px; line-height:1.6; font-family:arial, helvetica, sans-serif; margin:0; } #_form_32_ * { outline:0; } ._form_hide { display:none; visibility:hidden; } ._form_show { display:block; visibility:visible; } #_form_32_._form-top { top:0; } #_form_32_._form-bottom { bottom:0; } #_form_32_._form-left { left:0; } #_form_32_._form-right { right:0; } #_form_32_ input[type="text"],#_form_32_ input[type="date"],#_form_32_ textarea { padding:6px; height:auto; border:#979797 1px solid; border-radius:4px; color:#000 !important; font-size:14px; -webkit-box-sizing:border-box; -moz-box-sizing:border-box; box-sizing:border-box; } #_form_32_ textarea { resize:none; } #_form_32_ ._submit { -webkit-appearance:none; cursor:pointer; font-family:arial, sans-serif; font-size:14px; text-align:center; background:#333 !important; border:0 !important; -moz-border-radius:4px !important; -webkit-border-radius:4px !important; border-radius:4px !important; color:#fff !important; padding:10px !important; } #_form_32_ ._close-icon { cursor:pointer; background-image:url('https://d226aj4ao1t61q.cloudfront.net/esfkyjh1u_forms-close-dark.png'); background-repeat:no-repeat; background-size:14.2px 14.2px; position:absolute; display:block; top:11px; right:9px; overflow:hidden; width:16.2px; height:16.2px; } #_form_32_ ._close-icon:before { position:relative; } #_form_32_ ._form-body { margin-bottom:30px; } #_form_32_ ._form-image-left { width:150px; float:left; } #_form_32_ ._form-content-right { margin-left:164px; } #_form_32_ ._form-branding { color:#fff; font-size:10px; clear:both; text-align:left; margin-top:30px; font-weight:100; } #_form_32_ ._form-branding ._logo { display:block; width:130px; height:14px; margin-top:6px; background-image:url('https://d226aj4ao1t61q.cloudfront.net/hh9ujqgv5_aclogo_li.png'); background-size:130px auto; background-repeat:no-repeat; } #_form_32_ ._form-label,#_form_32_ ._form_element ._form-label { font-weight:bold; margin-bottom:5px; display:block; } #_form_32_._dark ._form-branding { color:#333; } #_form_32_._dark ._form-branding ._logo { background-image:url('https://d226aj4ao1t61q.cloudfront.net/jftq2c8s_aclogo_dk.png'); } #_form_32_ ._form_element { position:relative; margin-bottom:10px; font-size:0; max-width:100%; } #_form_32_ ._form_element * { font-size:14px; } #_form_32_ ._form_element._clear { clear:both; width:100%; float:none; } #_form_32_ ._form_element._clear:after { clear:left; } #_form_32_ ._form_element input[type="text"],#_form_32_ ._form_element input[type="date"],#_form_32_ ._form_element select,#_form_32_ ._form_element textarea:not(.g-recaptcha-response) { display:block; width:100%; -webkit-box-sizing:border-box; -moz-box-sizing:border-box; box-sizing:border-box; } #_form_32_ ._field-wrapper { position:relative; } #_form_32_ ._inline-style { float:left; } #_form_32_ ._inline-style input[type="text"] { width:150px; } #_form_32_ ._inline-style:not(._clear) + ._inline-style:not(._clear) { margin-left:20px; } #_form_32_ ._form_element img._form-image { max-width:100%; } #_form_32_ ._clear-element { clear:left; } #_form_32_ ._full_width { width:100%; } #_form_32_ ._form_full_field { display:block; width:100%; margin-bottom:10px; } #_form_32_ input[type="text"]._has_error,#_form_32_ textarea._has_error { border:#f37c7b 1px solid; } #_form_32_ input[type="checkbox"]._has_error { outline:#f37c7b 1px solid; } #_form_32_ ._error { display:block; position:absolute; font-size:14px; z-index:10000001; } #_form_32_ ._error._above { padding-bottom:4px; bottom:39px; right:0; } #_form_32_ ._error._below { padding-top:4px; top:100%; right:0; } #_form_32_ ._error._above ._error-arrow { bottom:0; right:15px; border-left:5px solid transparent; border-right:5px solid transparent; border-top:5px solid #f37c7b; } #_form_32_ ._error._below ._error-arrow { top:0; right:15px; border-left:5px solid transparent; border-right:5px solid transparent; border-bottom:5px solid #f37c7b; } #_form_32_ ._error-inner { padding:8px 12px; background-color:#f37c7b; font-size:14px; font-family:arial, sans-serif; color:#fff; text-align:center; text-decoration:none; -webkit-border-radius:4px; -moz-border-radius:4px; border-radius:4px; } #_form_32_ ._error-inner._form_error { margin-bottom:5px; text-align:left; } #_form_32_ ._button-wrapper ._error-inner._form_error { position:static; } #_form_32_ ._error-inner._no_arrow { margin-bottom:10px; } #_form_32_ ._error-arrow { position:absolute; width:0; height:0; } #_form_32_ ._error-html { margin-bottom:10px; } .pika-single { z-index:10000001 !important; } #_form_32_ input[type="text"].datetime_date { width:69%; display:inline; } #_form_32_ select.datetime_time { width:29%; display:inline; height:32px; } @media all and (min-width:320px) and (max-width:667px) { ::-webkit-scrollbar { display:none; } #_form_32_ { margin:0; width:100%; min-width:100%; max-width:100%; box-sizing:border-box; } #_form_32_ * { -webkit-box-sizing:border-box; -moz-box-sizing:border-box; box-sizing:border-box; font-size:1em; } #_form_32_ ._form-content { margin:0; width:100%; } #_form_32_ ._form-inner { display:block; min-width:100%; } #_form_32_ ._form-title,#_form_32_ ._inline-style { margin-top:0; margin-right:0; margin-left:0; } #_form_32_ ._form-title { font-size:1.2em; } #_form_32_ ._form_element { margin:0 0 20px; padding:0; width:100%; } #_form_32_ ._form-element,#_form_32_ ._inline-style,#_form_32_ input[type="text"],#_form_32_ label,#_form_32_ p,#_form_32_ textarea:not(.g-recaptcha-response) { float:none; display:block; width:100%; } #_form_32_ ._row._checkbox-radio label { display:inline; } #_form_32_ ._row,#_form_32_ p,#_form_32_ label { margin-bottom:0.7em; width:100%; } #_form_32_ ._row input[type="checkbox"],#_form_32_ ._row input[type="radio"] { margin:0 !important; vertical-align:middle !important; } #_form_32_ ._row input[type="checkbox"] + span label { display:inline; } #_form_32_ ._row span label { margin:0 !important; width:initial !important; vertical-align:middle !important; } #_form_32_ ._form-image { max-width:100%; height:auto !important; } #_form_32_ input[type="text"] { padding-left:10px; padding-right:10px; font-size:16px; line-height:1.3em; -webkit-appearance:none; } #_form_32_ input[type="radio"],#_form_32_ input[type="checkbox"] { display:inline-block; width:1.3em; height:1.3em; font-size:1em; margin:0 0.3em 0 0; vertical-align:baseline; } #_form_32_ button[type="submit"] { padding:20px; font-size:1.5em; } #_form_32_ ._inline-style { margin:20px 0 0 !important; } } #_form_32_ { position:relative; text-align:left; margin:25px auto 0; padding:20px; -webkit-box-sizing:border-box; -moz-box-sizing:border-box; box-sizing:border-box; *zoom:1; background:#fff !important; border:0px solid #b0b0b0 !important; width:500px; -moz-border-radius:0px !important; -webkit-border-radius:0px !important; border-radius:0px !important; color:#000 !important; } #_form_32_ ._form-title { font-size:22px; line-height:22px; font-weight:600; margin-bottom:0; } #_form_32_:before,#_form_32_:after { content:" "; display:table; } #_form_32_:after { clear:both; } #_form_32_._inline-style { width:auto; display:inline-block; } #_form_32_._inline-style input[type="text"],#_form_32_._inline-style input[type="date"] { padding:10px 12px; } #_form_32_._inline-style button._inline-style { position:relative; top:27px; } #_form_32_._inline-style p { margin:0; } #_form_32_._inline-style ._button-wrapper { position:relative; margin:27px 12.5px 0 20px; } #_form_32_ ._form-thank-you { position:relative; left:0; right:0; text-align:center; font-size:18px; } @media all and (min-width:320px) and (max-width:667px) { #_form_32_._inline-form._inline-style ._inline-style._button-wrapper { margin-top:20px !important; margin-left:0 !important; } } </style> <form method="POST" action="https://whitmores.activehosted.com/proc.php" id="_form_32_" class="_form _form_32 _inline-form _dark" novalidate> <input type="hidden" name="u" value="32" /> <input type="hidden" name="f" value="32" /> <input type="hidden" name="s" /> <input type="hidden" name="c" value="0" /> <input type="hidden" name="m" value="0" /> <input type="hidden" name="act" value="sub" /> <input type="hidden" name="v" value="2" /> <div class="_form-content"> <div class="_form_element _x83725679 _full_width _clear" > <div class="_form-title"> Subscribe to Download the Presentation </div> </div> <div class="_form_element _x29324208 _full_width _clear" > <div class="_html-code"> <p> Please submit the form in order to receive the full presentation. </p> </div> </div> <div class="_form_element _x29702112 _full_width " > <label class="_form-label"> First Name* </label> <div class="_field-wrapper"> <input type="text" name="firstname" placeholder="Type your first name" required/> </div> </div> <div class="_form_element _x47641164 _full_width " > <label class="_form-label"> Last Name* </label> <div class="_field-wrapper"> <input type="text" name="lastname" placeholder="Type your last name" required/> </div> </div> <div class="_form_element _x59082886 _full_width " > <label class="_form-label"> Email* </label> <div class="_field-wrapper"> <input type="text" name="email" placeholder="Type your email" required/> </div> </div> <div class="_form_element _x65764813 _full_width " > <label class="_form-label"> Account* </label> <div class="_field-wrapper"> <input type="text" name="customer_account" placeholder="Type the Company you work for" required/> </div> </div> <div class="_form_element _field4 _full_width " > <label class="_form-label"> Country* </label> <div class="_field-wrapper"> <input type="text" name="field[4]" value="" placeholder="Type your country" required/> </div> </div> <div class="_form_element _x88878123 _full_width " > <label class="_form-label"> Please verify your request* </label> <div class="g-recaptcha" data-sitekey="6LcwIw8TAAAAACP1ysM08EhCgzd6q5JAOUR1a0Go"> </div> </div> <div class="_button-wrapper _full_width"> <button id="_form_32_submit" class="_submit" type="submit"> Submit </button> </div> <div class="_clear-element"> </div> </div> <div class="_form-thank-you" style="display:none;"> </div> </form><script type="text/javascript"> window.cfields = {"4":"country"}; window._show_thank_you = function(id, message, trackcmp_url, email) { var form = document.getElementById('_form_' + id + '_'), thank_you = form.querySelector('._form-thank-you'); form.querySelector('._form-content').style.display = 'none'; thank_you.innerHTML = message; thank_you.style.display = 'block'; const vgoAlias = typeof visitorGlobalObjectAlias === 'undefined' ? 'vgo' : visitorGlobalObjectAlias; var visitorObject = window[vgoAlias]; if (email && typeof visitorObject !== 'undefined') { visitorObject('setEmail', email); visitorObject('update'); } else if (typeof(trackcmp_url) != 'undefined' && trackcmp_url) { // Site tracking URL to use after inline form submission. _load_script(trackcmp_url); } if (typeof window._form_callback !== 'undefined') window._form_callback(id); }; window._show_error = function(id, message, html) { var form = document.getElementById('_form_' + id + '_'), err = document.createElement('div'), button = form.querySelector('button'), old_error = form.querySelector('._form_error'); if (old_error) old_error.parentNode.removeChild(old_error); err.innerHTML = message; err.className = '_error-inner _form_error _no_arrow'; var wrapper = document.createElement('div'); wrapper.className = '_form-inner'; wrapper.appendChild(err); button.parentNode.insertBefore(wrapper, button); document.querySelector('[id^="_form"][id$="_submit"]').disabled = false; if (html) { var div = document.createElement('div'); div.className = '_error-html'; div.innerHTML = html; err.appendChild(div); } }; window._load_script = function(url, callback) { var head = document.querySelector('head'), script = document.createElement('script'), r = false; script.type = 'text/javascript'; script.charset = 'utf-8'; script.src = url; if (callback) { script.onload = script.onreadystatechange = function() { if (!r && (!this.readyState || this.readyState == 'complete')) { r = true; callback(); } }; } head.appendChild(script); }; (function() { if (window.location.search.search("excludeform") !== -1) return false; var getCookie = function(name) { var match = document.cookie.match(new RegExp('(^|; )' + name + '=([^;]+)')); return match ? match[2] : null; } var setCookie = function(name, value) { var now = new Date(); var time = now.getTime(); var expireTime = time + 1000 * 60 * 60 * 24 * 365; now.setTime(expireTime); document.cookie = name + '=' + value + '; expires=' + now + ';path=/'; } var addEvent = function(element, event, func) { if (element.addEventListener) { element.addEventListener(event, func); } else { var oldFunc = element['on' + event]; element['on' + event] = function() { oldFunc.apply(this, arguments); func.apply(this, arguments); }; } } var _removed = false; var form_to_submit = document.getElementById('_form_32_'); var allInputs = form_to_submit.querySelectorAll('input, select, textarea'), tooltips = [], submitted = false; var getUrlParam = function(name) { var regexStr = '[\?&]' + name + '=([^&#]*)'; var results = new RegExp(regexStr, 'i').exec(window.location.href); return results != undefined ? decodeURIComponent(results[1]) : false; }; for (var i = 0; i < allInputs.length; i++) { var regexStr = "field\\[(\\d+)\\]"; var results = new RegExp(regexStr).exec(allInputs[i].name); if (results != undefined) { allInputs[i].dataset.name = window.cfields[results[1]]; } else { allInputs[i].dataset.name = allInputs[i].name; } var fieldVal = getUrlParam(allInputs[i].dataset.name); if (fieldVal) { if (allInputs[i].dataset.autofill === "false") { continue; } if (allInputs[i].type == "radio" || allInputs[i].type == "checkbox") { if (allInputs[i].value == fieldVal) { allInputs[i].checked = true; } } else { allInputs[i].value = fieldVal; } } } var remove_tooltips = function() { for (var i = 0; i < tooltips.length; i++) { tooltips[i].tip.parentNode.removeChild(tooltips[i].tip); } tooltips = []; }; var remove_tooltip = function(elem) { for (var i = 0; i < tooltips.length; i++) { if (tooltips[i].elem === elem) { tooltips[i].tip.parentNode.removeChild(tooltips[i].tip); tooltips.splice(i, 1); return; } } }; var create_tooltip = function(elem, text) { var tooltip = document.createElement('div'), arrow = document.createElement('div'), inner = document.createElement('div'), new_tooltip = {}; if (elem.type != 'radio' && elem.type != 'checkbox') { tooltip.className = '_error'; arrow.className = '_error-arrow'; inner.className = '_error-inner'; inner.innerHTML = text; tooltip.appendChild(arrow); tooltip.appendChild(inner); elem.parentNode.appendChild(tooltip); } else { tooltip.className = '_error-inner _no_arrow'; tooltip.innerHTML = text; elem.parentNode.insertBefore(tooltip, elem); new_tooltip.no_arrow = true; } new_tooltip.tip = tooltip; new_tooltip.elem = elem; tooltips.push(new_tooltip); return new_tooltip; }; var resize_tooltip = function(tooltip) { var rect = tooltip.elem.getBoundingClientRect(); var doc = document.documentElement, scrollPosition = rect.top - ((window.pageYOffset || doc.scrollTop) - (doc.clientTop || 0)); if (scrollPosition < 40) { tooltip.tip.className = tooltip.tip.className.replace(/ ?(_above|_below) ?/g, '') + ' _below'; } else { tooltip.tip.className = tooltip.tip.className.replace(/ ?(_above|_below) ?/g, '') + ' _above'; } }; var resize_tooltips = function() { if (_removed) return; for (var i = 0; i < tooltips.length; i++) { if (!tooltips[i].no_arrow) resize_tooltip(tooltips[i]); } }; var validate_field = function(elem, remove) { var tooltip = null, value = elem.value, no_error = true; remove ? remove_tooltip(elem) : false; if (elem.type != 'checkbox') elem.className = elem.className.replace(/ ?_has_error ?/g, ''); if (elem.getAttribute('required') !== null) { if (elem.type == 'radio' || (elem.type == 'checkbox' && /any/.test(elem.className))) { var elems = form_to_submit.elements[elem.name]; if (!(elems instanceof NodeList || elems instanceof HTMLCollection) || elems.length <= 1) { no_error = elem.checked; } else { no_error = false; for (var i = 0; i < elems.length; i++) { if (elems[i].checked) no_error = true; } } if (!no_error) { tooltip = create_tooltip(elem, "Please select an option."); } } else if (elem.type =='checkbox') { var elems = form_to_submit.elements[elem.name], found = false, err = []; no_error = true; for (var i = 0; i < elems.length; i++) { if (elems[i].getAttribute('required') === null) continue; if (!found && elems[i] !== elem) return true; found = true; elems[i].className = elems[i].className.replace(/ ?_has_error ?/g, ''); if (!elems[i].checked) { no_error = false; elems[i].className = elems[i].className + ' _has_error'; err.push("Checking %s is required".replace("%s", elems[i].value)); } } if (!no_error) { tooltip = create_tooltip(elem, err.join('<br/>')); } } else if (elem.tagName == 'SELECT') { var selected = true; if (elem.multiple) { selected = false; for (var i = 0; i < elem.options.length; i++) { if (elem.options[i].selected) { selected = true; break; } } } else { for (var i = 0; i < elem.options.length; i++) { if (elem.options[i].selected && !elem.options[i].value) { selected = false; } } } if (!selected) { elem.className = elem.className + ' _has_error'; no_error = false; tooltip = create_tooltip(elem, "Please select an option."); } } else if (value === undefined || value === null || value === '') { elem.className = elem.className + ' _has_error'; no_error = false; tooltip = create_tooltip(elem, "This field is required."); } } if (no_error && elem.name == 'email') { if (!value.match(/^[\+_a-z0-9-'&=]+(\.[\+_a-z0-9-']+)*@[a-z0-9-]+(\.[a-z0-9-]+)*(\.[a-z]{2,})$/i)) { elem.className = elem.className + ' _has_error'; no_error = false; tooltip = create_tooltip(elem, "Enter a valid email address."); } } if (no_error && /date_field/.test(elem.className)) { if (!value.match(/^\d\d\d\d-\d\d-\d\d$/)) { elem.className = elem.className + ' _has_error'; no_error = false; tooltip = create_tooltip(elem, "Enter a valid date."); } } tooltip ? resize_tooltip(tooltip) : false; return no_error; }; var needs_validate = function(el) { if(el.getAttribute('required') !== null){ return true } if(el.name === 'email' && el.value !== ""){ return true } return false }; var validate_form = function(e) { var err = form_to_submit.querySelector('._form_error'), no_error = true; if (!submitted) { submitted = true; for (var i = 0, len = allInputs.length; i < len; i++) { var input = allInputs[i]; if (needs_validate(input)) { if (input.type == 'text') { addEvent(input, 'blur', function() { this.value = this.value.trim(); validate_field(this, true); }); addEvent(input, 'input', function() { validate_field(this, true); }); } else if (input.type == 'radio' || input.type == 'checkbox') { (function(el) { var radios = form_to_submit.elements[el.name]; for (var i = 0; i < radios.length; i++) { addEvent(radios[i], 'click', function() { validate_field(el, true); }); } })(input); } else if (input.tagName == 'SELECT') { addEvent(input, 'change', function() { validate_field(this, true); }); } else if (input.type == 'textarea'){ addEvent(input, 'input', function() { validate_field(this, true); }); } } } } remove_tooltips(); for (var i = 0, len = allInputs.length; i < len; i++) { var elem = allInputs[i]; if (needs_validate(elem)) { if (elem.tagName.toLowerCase() !== "select") { elem.value = elem.value.trim(); } validate_field(elem) ? true : no_error = false; } } if (!no_error && e) { e.preventDefault(); } resize_tooltips(); return no_error; }; addEvent(window, 'resize', resize_tooltips); addEvent(window, 'scroll', resize_tooltips); window['recaptcha_callback'] = function() { // Get all recaptchas in the DOM (there may be more than one form on the page). var recaptchas = document.getElementsByClassName("g-recaptcha"); for (var i in recaptchas) { // Set the recaptcha element ID, so the recaptcha can be applied to each element. var recaptcha_id = "recaptcha_" + i; recaptchas[i].id = recaptcha_id; var el = document.getElementById(recaptcha_id); if (el != null) { var sitekey = el.getAttribute("data-sitekey"); var stoken = el.getAttribute("data-stoken"); grecaptcha.render(recaptcha_id, {"sitekey":sitekey,"stoken":stoken}); } } }; _load_script("//www.google.com/recaptcha/api.js?onload=recaptcha_callback&render=explicit"); window._old_serialize = null; if (typeof serialize !== 'undefined') window._old_serialize = window.serialize; _load_script("//d3rxaij56vjege.cloudfront.net/form-serialize/0.3/serialize.min.js", function() { window._form_serialize = window.serialize; if (window._old_serialize) window.serialize = window._old_serialize; }); var form_submit = function(e) { e.preventDefault(); if (validate_form()) { // use this trick to get the submit button & disable it using plain javascript document.querySelector('#_form_32_submit').disabled = true; var serialized = _form_serialize(document.getElementById('_form_32_')); var err = form_to_submit.querySelector('._form_error'); err ? err.parentNode.removeChild(err) : false; _load_script('https://whitmores.activehosted.com/proc.php?' + serialized + '&jsonp=true'); } return false; }; addEvent(form_to_submit, 'submit', form_submit); })(); </script>